The Effect of Relationship Quality on Cross-Buying Intention in Bancassurance Channel:
A Study on Bank Customers in Thailand
Keywords:
Bancassurance, Relationship Marketing, Relationship Quality, Cross-Buying Intention
Abstract
There are limited studies of relationship marketing in Business-to-Consumer, especially in a bancassurance context, although this theory has been previously used in the marketing studies in the past. Thus, this study employed relationship marketing theory and related constructs to explain the success of bancassurance in Thailand. About 700 questionnaires were distributed but only 443 completed sets of questionnaires were qualified for SEM analysis after data cleaning process. Among the antecedents of relationship quality, only relational bonds were found to have a direct and positive relationship with the cross-buying intention. Other variables, such as source credibility and brand image, were found to have indirect effect on cross-buying intention through relationship quality. The results of this study contribute theoretically in the area of relationship marketing and relationship quality. Relationship marketing theory was proven to be a dynamic theory and still plays an important role in the twenty-first century, especially in the services sector area. Moreover, relationship quality between the bank and its customers helps explain the success of the cross-buying intention of bank customers in the Business-to Consumer context.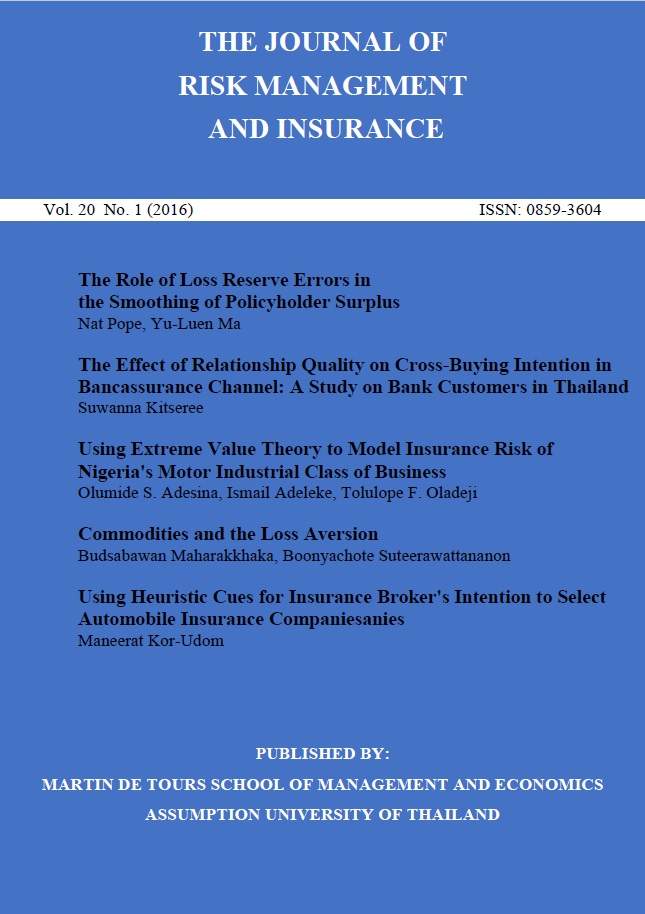 Downloads
Section
Research Articles
License
Upon acceptance, the author(s) agree to transfer the copyright to their work to the Assumption University of Thailand, which owns the journal, royalty-free, for the sole purpose of academic publishing. The author(s) retain the right to self-archive the published paper, print copies for their personal use provided they will not be sold commercially, and use it for their future work provided the published article is properly cited.