Determinants of the Demand for Life Insurance in the Northern Region of Ghana
A Study of the Tamale Metropolis
Keywords:
Demand, Determinants, Northern Region, Life Insurance
Abstract
This study examined the determinants of life insurance demand in the Northern region of Ghana using primary data on 200 sampled customers and potential customers of life insurance companies in the Tamale metropolis (the Northern regional capital). The views of the respondents were obtained with a structured questionnaire. The preliminary results showed that, the average insurable age in the region is 33 years with an average economic dependency of 3 persons. Also, less than fifty percent (49.5%) of the people of the insurable age owned a life policy. The results also showed that, Endowment policy is the highly owned life insurance policy compared to Term and Whole life policies. More so, 78% of the respondents have an idea about life insurance and more than 50% said the services of life insurance firms are good. Adopting the binary logistic regression model, easy access to claims when due, perceptions about services of insurance firms and employment status were the statistically significant determinants of the demand for life insurance policies in the Northern region of Ghana. Though, age and number of dependents were statistically insignificant, they were positively associated with the demand for life insurance. Also females, Christians as well as married persons were found to have more chance of taking life insurance. It is therefore recommended that, access to claims should be made easier and convenient; customer services should be improved for improved better perceptions about life insurance companies; segmenting potential customers using the sector of employment could help life insurance firms to easily target potential customers in the sale of life policies; the Whole life and Term life policies should be redesigned with more attractive features.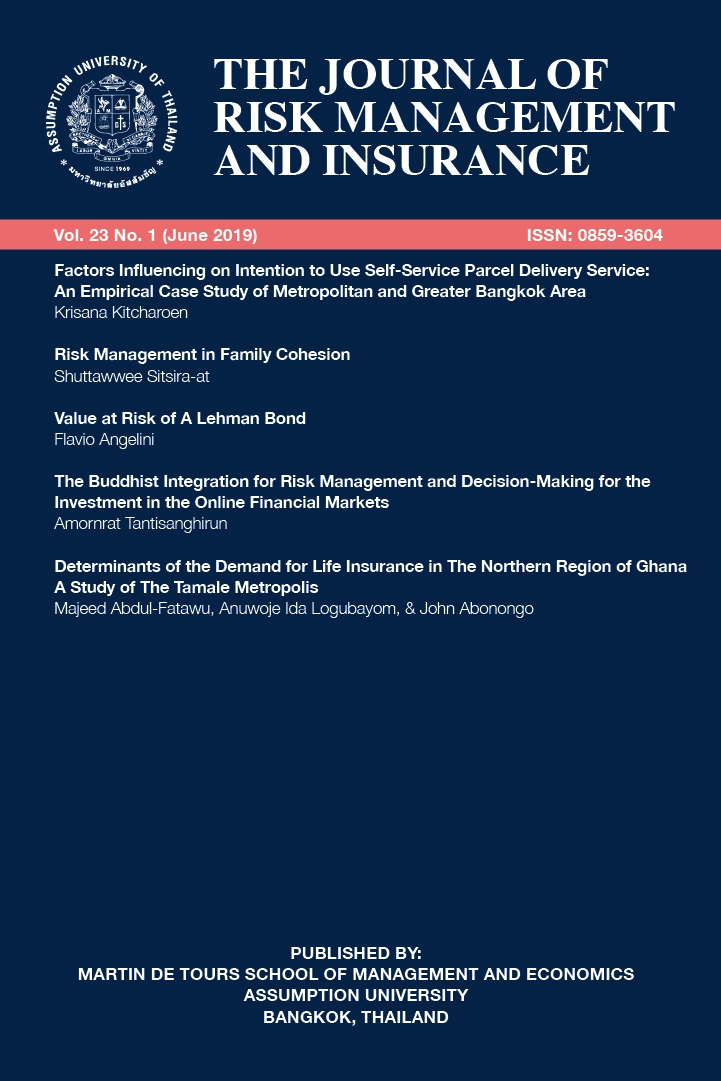 Downloads
Section
Research Articles
License
Upon acceptance, the author(s) agree to transfer the copyright to their work to the Assumption University of Thailand, which owns the journal, royalty-free, for the sole purpose of academic publishing. The author(s) retain the right to self-archive the published paper, print copies for their personal use provided they will not be sold commercially, and use it for their future work provided the published article is properly cited.