Effect of Perceptual Differences on Consumer Attitude and Purchase Intention of Organic Food:
A Case Study of Online and Offline Purchasing of People in Bangkok, Thailand
Keywords:
Organic Food, Attitude, Perceived Susceptibility, Perceived Barriers, Perceived Benefits, Subjective Norms, Purchase Intention, Online Purchasing, Offline Purchasing
Abstract
The increase in the consumption of organic foods has been one of the most obvious trends in the health-conscious society around the globe in the last decade. The sales of organic foods have grown by double-digit rates in many countries. The largest market for organic foods consumption is in the United States. In Thailand, the  sale of organic foods is on the rise higher than the sales  rate of conventional food. Premium pricing is a motivation  for producers. Consumers prefer  to pay more to get high quality food . At the same time, Thai consumers are actively engaged  in online shopping on all kinds of commodities including organic food. Organic food has expanded its distribution channels to online shopping. Even though the consumption of organic foods is increasing in Thailand, but still little is known about the factors which affect consumer purchase intention toward organic foods. This study was carried out to explore factors influencing perceptual differences on consumer attitude and purchase intention of organic foods: a case study of online and offline purchasing organic food. These research-targeted populations are people who live in Bangkok and had an experience of consuming organic food. There are  404 respondents.  Simple linear regression and multiple regression analysis were  to analyze the data  Findings reveal that Perceived Benefits is the most important variable that positively affects both the  attitude and intention to purchase organic food at statistically significant level of 0.05. There is a significance mean difference derived between preference in offline purchasing group and online purchasing group using independent sample t-test for analysis .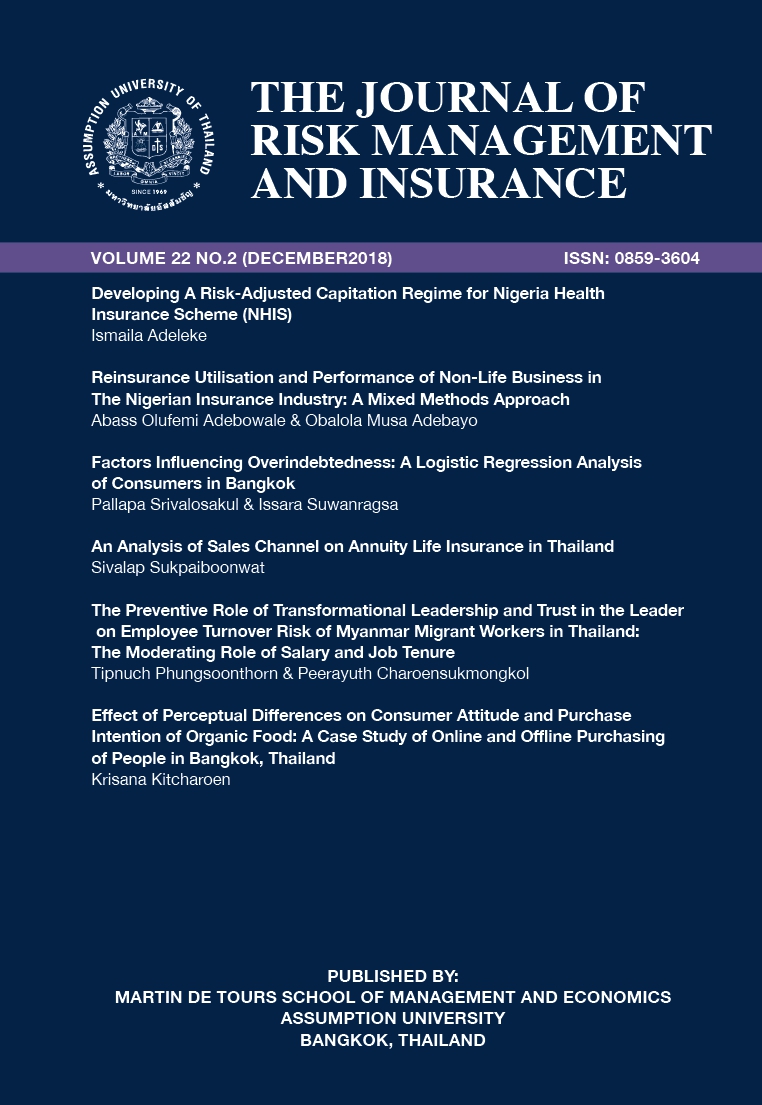 Downloads
Section
Research Articles
License
Upon acceptance, the author(s) agree to transfer the copyright to their work to the Assumption University of Thailand, which owns the journal, royalty-free, for the sole purpose of academic publishing. The author(s) retain the right to self-archive the published paper, print copies for their personal use provided they will not be sold commercially, and use it for their future work provided the published article is properly cited.